Do you want to make huge profits ?
Do you want an easy way to make huge profits via contrarian Investing ?
Contrarian investing is the answer. It can also be called as Value investing. You would have heard about value investing when you browse through stock market. When you dig deeper, you will come to know about contrarian investing. In this article you will know about 5 key things you should know to do contrarian investing.
What is Contrarian Investing?
Contrarian investing is an investment strategy that is characterized by purchasing and selling in contrast to the prevailing sentiment of the time. This is explanation from the wikipedia. But how to follow or implement is what we will see in the below sections. To identify a sector with low sentiment is not a big challenge. In the recent decade every sector has got its own index and we can make use of it effectively.
Sensex is a top 30 company on the Bombay stock exchange. Nifty is a top 50 company in the National Stock exchange. Apart from these indices, there are many indices that are readily available,
The most popular indices are,
Bankex
Pharma
Auto
FMCG
Metal
PSU
Midcap
Smallcap
All these are just a list of stocks. An index grows based on the movement of stocks. FMCG and Pharma are called conservative indexes. Based on the economic growth any particular index will lead the chart. Not all stocks will grow together and similarly not all indices will grow together.
How the index grows?
During the 2008 crisis, when all the stocks fell down, only Pharma and FMCG sectors lead the index. They had grown conservatively. Anyone who has invested in these sectors would have made a profit.
Sensex Chat :
FMCG Chart :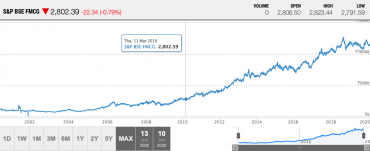 If you watch both these charts together, during 2008 there was a flat growth for the FMCG sector. Then the rally continued as the Sensex started bouncing. This is one sector that is regarded as conservative and whenever the economy shoots up, this sector tends to do good. Stock movement depends on the consumerism and development of rural areas. If you get any information that this activity by the government is going to increase the rural economy, then it is going to have an effect on the stocks in the FMCG sector.
Below is the metal index which is more of cyclical in nature,
During 2008-09 crisis, there was a deep fall in this sector. It means that all the stocks in this sector would have destroyed wealth of investors. Even after that the sector has series of ups and downs. You can try to invest when it is falling down and wait for the sector/stocks to move up. You can really make good profits in these cyclical stocks.
How to choose the right index to invest ?
There are more than 30 indexes. All indexes may not be comprised of good stocks. Taken to more than 10 index to invest. As mentioned in the previous examples, choose indexes as a mix of cyclical, conservative, growth etc
At any point of time as not all indices are going to grow. After identifying top 10 indexes analyse the charts of these indexes. Not all are going to be at the top. Below is the chart of Auto index,
The auto sector has witnessed the biggest slowdown during the last 3 quarters. You can easily see it in the chart. When the sector was going through a rough phase, everyone had written off that sector. This is the time you need to invest in the sector. It may take a time to grow, but once it starts the growth and profit will be huge.
This is when contrarian investing works. If you had chosen to invest when the sector itself is at its low, all the stocks are going to be at below par price.
Below is the chart of Maruti, where the stock was available at below 6000 and at one point of time the stock has touched 10000.
When the sector started recovering, this is the stock that started rising at first.
This is just tip of an iceberg, once you dig deep on this contrarian investing. It is easy to make stocks that are good to invest.
Remember that this is only crossing the initial hurdle and next you have to do fundamental analysis. You need to understand the if the drop in value is because of the sectoral down or it is due to the mismanagement issue.
5 key things you should follow in contrarian investing strategy
1.Identify the index which you are going to invest
2. Identify the stocks in the index
3. Look out for the index which is available at discounted price
4. Accumulate stocks slowly and by investing across the index
5. Make profits in cyclical index
In a situation like a corona crisis, it is better to wait and watch. As the entire economy is affected and all the fall which happened till March 23, 2020 is due to the virus fear across the world. We need to see the impact on the actual economy in the coming months. In these kinds of situations, it is better to apply fundamental analysis and invest in quality stocks.
To perform fundamental stock market analysis and invest yourself find my online course of stock market.
---