How to create 7 figure portfolio by
investing in stock market
A course for you to help you in breaking the fear of investing, how to plan your long-term investment strategies by allocating just 15mins a week amid your busy lifestyle & how to save yourself from rising inflation and get financial freedom by investing in the stock market for long term.
WHAT YOU WILL GET IN THIS 90+ MINUTE MASTERCLASS SESSION ON 1 PAGE STOCK MARKET PLAN ?
Learn 1:
Why you want to invest in stock market ?
learn 2:
How to invest with a 1 Page plan ?
Learn 3:
Learn how to analyse business cycle
Learn 4:
Invest based on H-A-B-IT framework
learn 5:
Learn the technique
Bonus :
Claim your free spot & bonuses
Know your Stock Market Coach
Who am I to Teach Stock Market Funds investing?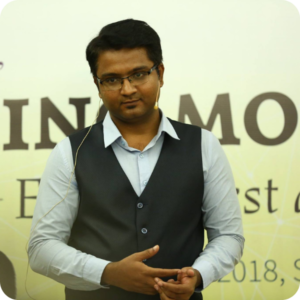 I started my investing journey with Stock Market in 2008. No one knew much about Stocks. It was introduced to me by my friend and I had invested my first-year bonus amount into 2 mutual funds.
I met with losses as it coincided with the Market crash in 2008 and I had lost a considerable size of my investment. I didn't withdraw the money. Then I started learning about mutual funds from online resources and magazines.  
I restarted a SIP in 2010 in Reliance Tax saver mutual fund, now Nippon Tax saver mutual fund. Seeing the profits, I started recommending to my friend's circle in my office.
A small investment of 36000 in this fund became close to 1 lakh in 6+ years. This became the trigger to look at Mutual fund distribution and starting a company for providing distribution services. Now running my company YMM Financial Services private limited successfully for close to 5 years.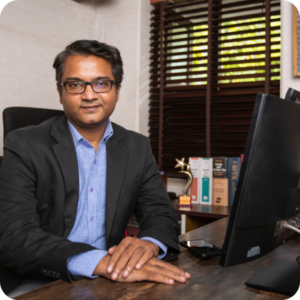 I have served 300+ clients in various walks of life by helping them to start a SIP and it had helped them during their tough times. I have also published my 3rd book "1 Page Mutual fund" in 2021. This can help many in understanding mutual funds and achieving financial freedom over a period of time.
Mutual funds in a way had helped me to start a new carrier & for my clients too in achieving their financial goals. Now I want to take this to 1 million people.
( 14 days Moneyback Guarentee )
Who can take this course ?
Are you an Entrepreneur ?
You are struggling hard working for your clients to earn that extra money. Do you really want to struggle hard even at your 60's ? (Learn to invest in stocks to create wealth)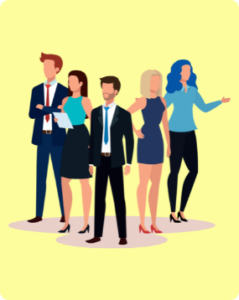 You are working hard in your daily jobs to make money and achieve every thing in your life one by one. Will you achieve everything in your life ? ( Know the investment strategy in stock market which has been implemented by Research Analysts )
You are struggling to keep up with the expenses ? Family Income has increased considerably but the expenses are equally increasing. Do you want to enjoy everything in life with more money ? ( Learn the art of managing money and creating wealth in stock market )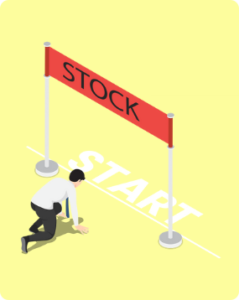 Are you a Stocks Beginner?
In India, the stock market is still in nascent growth phase. A number of investors are in single-digit only compared to US, China and Brazil market. You can overcome the myths and start investing as small as possible.
CLAIM YOUR FREE SPOT & BONUSES
You'll receive a 'Certificate of Completion' signed and addressed personally by me, your guide and mentor – By Ganesan Thiru
90 Minute Session on One Page Stock Market Plan to invest in stocks
One Page Stock Market Plan Template to set up your Stock Market plan for creating Wealth
"Your Money Blueprint" FREE course for setting your Money Blueprint for life
"100 FAQs" course with 100 Videos on stock market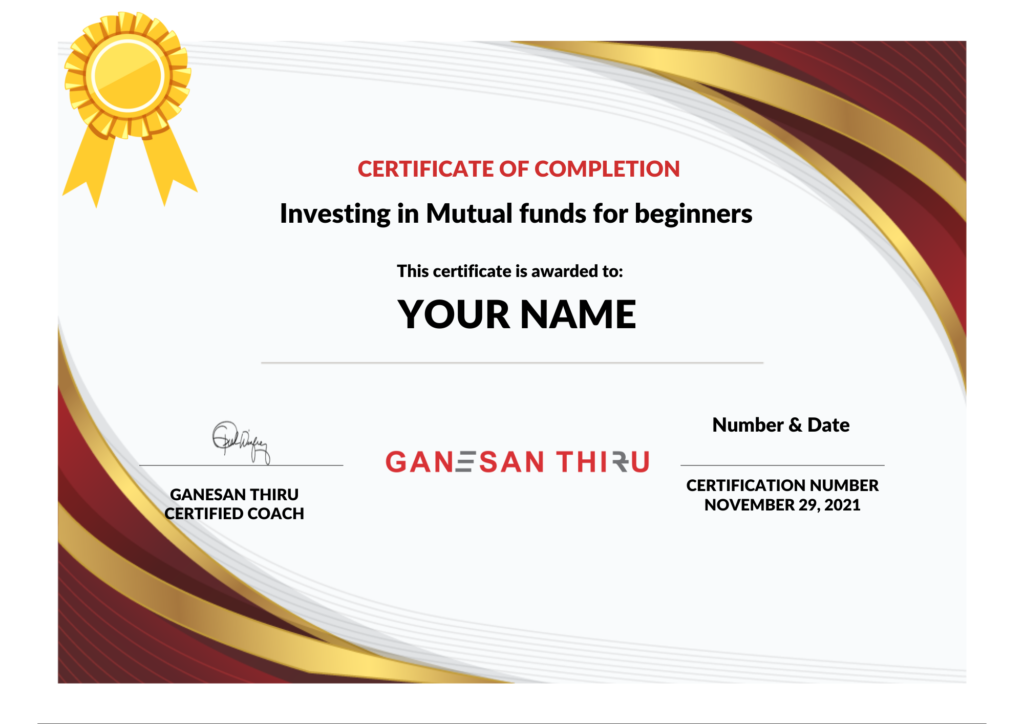 You will be able to Invest in Stock Market without depending on Anyone
Easily make Triple the returns than Fixed deposits in a year with One Page stock market Plan
Course of Mr. Ganesan Thiru is really very informative and detailed one. It helped me to do the fundamental analyse of the stocks in deep. Moreover, Mr. Ganesan is always available to clear the doubts. Even though I am in the stock market for a long period, the course helped me to learn many techniques to analyse a script
I approached Ganesan for my financial portfolio planning and right from day 1, he was very professional and was able to guide on the right approach. He committed the time line to assess/discuss my current stand and was able to propose solution based on the needs. He not only provides solution but also have trainings to pass the knowledge he gained to empower people in the financial domain.
Stock market investments can be rewarding or disastrous depending on proper actionalble guidance you get from a mentor. Mr. Ganesan's course gives a ton of information by way of short videos and weekly Master classes explaining how to identify good stocks. I strongly recommend his course to make investments safe and rewarding.
Investing in stock market had been explained in a very simple and structured way by Mr. Ganesan Thiru. The course material is very comprehensive and in detail
Only individual needs to follow it judiciously to gain maximum.
Most investors would like to get their money within short period. That too without risk of losing their principal money. This is the reason why investor's need best financial advice from the experts. Yaa My friend Mr.Ganesan will help's your financial management through your entire life. I strongly suggest him to my friends and families. He's having huge experience in all the investment fields.
Ganesan is the best.
I have seen many trainers who may be good, but forget that people who enroll in the course are also those who don't know anything about Stock Market. But that's what is different in Ganesan. He is designed his course in such a way that from beginner to advance everyone can learn a lot from his course.Thanks, Ganesan for creating such a course it's really helped me a lot & I am sure it will help many others as well. Keep up the Good Work.