5 Business lessons from the Stock market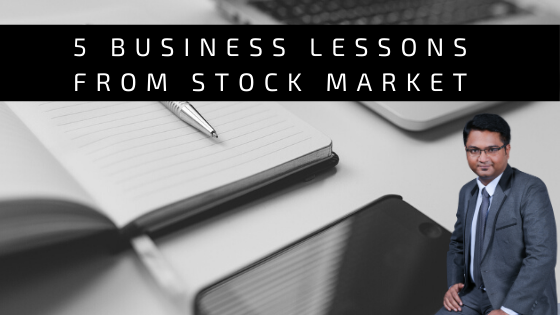 Do you want to know 5 Business lessons from Stock Market?
Are you an Entrepreneur?
Once you understand the business lessons from the stock market, then you can get connected with the stock market easily. Learning in the stock market makes you earn more and the same goes for your business as well.
5 Business lessons from stock market :
Below are them,
1) Theory Vs Practical
2) Monitoring/Follow up
3) Right Stock/People is everything
4) Failure is part of life
5) Valuing your Time
Theory Vs Practical :
On paper you can draft a perfect business plan. The challenge happens only during the execution. You need to encounter several factors before becoming successful business person.
My brother wanted to get into entrepreneurship and he was more interested in taking technical learnings to everyone. He chose to be a franchise partner for one of the biggest technical training institutes. The franchise cost was less in the first three years and doing basic analysis, he thought this can be the best thing to do. Challenge existed in every phase, right from staffing to marketing to sales and paying EMI's.
In the same way, it will be interesting to learn about the stock market, but the challenge exists when you get practical. Yes, you may lose initially with the stock which you had believed a lot. Once you plan and execute it is easy to stick to it. This is one of the 5 Business lessons from the stock market.
Monitoring & Follow Up :
The next important business thing is to do a continuous follow-up to make sure you are up in achieving the business goals of the year. Also, it is in alignment with the long-term goals. If you are not setting goals and you are just dealing with day-to-day activities for making money, the progress is going to be much slower.
In the stock market, you need to be lucky to stay with good stocks for making more money and creating wealth. Those who have bought IRCTC or Avenue supermarts in the last 3 years would have become crorepatis. I have seen people who have sold off these shares as it has given 200% profit in a short span of time.
Right Stock / People is everything :
In Business you need the right people for the right position, else you will be deprived of the growth which you are expecting. If the person is not the right fit for sales and marketing, he is not going to bring in enough business which will create lots of problems for the company. One of my friends who is running a sign board manufacturing company was trying hard to make his sales team bring more business.
In the Stock market, all you need to have is the right stock that can fetch you good returns in the long run. Stocks like Asian paints, Maruti, Eicher Motors, Havells, etc would have created wealth for you. Stocks like ILFS, Reliance communications, Kingfisher airlines, Yes Bank, Vodafone Idea would have been great destroyers of wealth.
Failure is part of life :
In Business you should be quick enough to accept the failure and learn something out of it. It can be change in the project cost, right team to execute the projects, financial strength of the company etc. Unless you accept those failures and learnings, the progress is not going to be there.
In stock market, you should be quick enough to accept the losses and sell them. One of my friend, kept having loss making stock and also kept adding to average the price. Vakrange, Waterbase etc was some of the stocks he kept adding when the stock was falling from its peak.
Valuing your Time :
Anything in life needs time. There is a common saying that, if you do the same work for 10,000 hours you will start mastering it. In business, you might not taste success immediately. It may take years of understanding, improving, innovating to reach where you want to go. Only thing is you should be clear of the direction in which you are doing as time is more valuable than money.
In stock market you need to give time for certain stocks to grow. First thing to do is fundamental analysis of the stock. Once you are confident of the analysis, you can look ahead of holding it for long time to create wealth. When HDFC bank IPO came in around 1996, Damani said to most fo his friends and relatives to buy this stock for creating wealth in their life. It is still creating wealth for its shareholders.
Business and Stock Market :
Any stock which is listed in the stock market is a business. Investing in the stock market is basically investing in other business. If you believe in that business, you can own it up and wait for it to grow.
---