ARE YOU BEING MIS-SOLD WITH INVESTMENT AND INSURANCES ?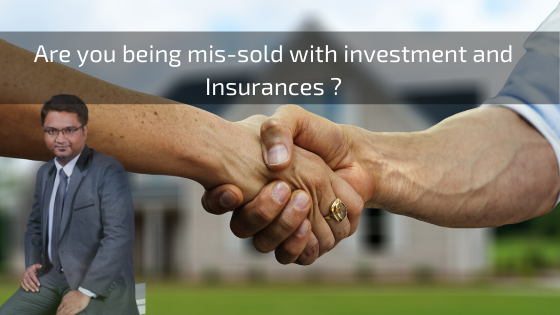 Are you being mis-sold with investment and Insurances ?
Is it ignorance at your end?
It is difficult to accept the fact that many of you are mis-sold or given false promises on most of the investments you make. Last week I was in one of the corporate company for a session. HR had asked to give a presentation and provide clarity on financial and tax planning.
I have given my best to strike a conversation on many things from tax savings, products they should avoid and why they should not close the home loan earlier, why the high-interest loan should be closed at the earliest, etc. After passing so many tips and gave them time to come & meet me in person to get their doubts clarified.
Are you mis-sold?
One guy was waiting till the end to ask his doubts. After everyone had left he had asked about a ULIP policy which he took over online. As the name suggested asked him to continue for a long time of more than 10 years to see good returns. While taking the policy he was assured of double the returns in just 5 years time. Also, he was told that it is enough to pay only for 5 years.
The ultimate reason to not go online or approach a bank for your financial needs is this reason for not giving full information. It is understood that some of them after hearing full information may not take the policy. This shouldn't stop the person from sharing everything and then give the confidence of investing in it. It becomes a win-win situation for both of them. In reality, this never happens.
When it comes to ULIP, you should invest the minimum for a period of more than 10 years. You can invest mostly in the equity portion for better returns in this long tenure. IRDA has increased the lock-in period of these policies from 3 years to 5 years as many were withdrawing the money within 3 years and at loss. The policy tenure might be 10 or 15 or 20 years only. Please look at the policy document for these information.
Don't follow the trend ;
It is obvious to follow the trend while doing anything like marriage, hotels, vacation, etc. You can type in the question as "Best things to do in Sydney.." in google to explore. When it comes to investment it is quite dangerous to follow the best mutual funds or best stock to invest.
All the websites like economic times, value research provides Best mutual funds in their platform. They provide the list based on CRISISL or other rating agencies. These ratings are based on so many factors provided by the mutual fund houses. They need to comply with those regulations.
At times, the ratings might be low, but the returns would be on the much higher side. The most important factor is that these ratings will differ every quarter. Hence, if you look at these ratings and invest, it is dangerous. A mutual fund might not find a place as the best fund for the last 5 years but it might be the best fund providing superior returns in 10 years timeline.
Conclusion :
Be aware of the investments or insurance you take. It is hard-earned money and don't let it go waste because of misselling or your own ignorance. It is better to approach the best financial advisor. Get his advise for a small fee rather than losing huge amount of money.
---